Making your classes recur
Last updated on June 1st, 2020
Once you've created your classes, you may want to make them recur. Recurring classes will allow you to create your schedule for just one week, and then ClassFit will recreate them for you each week after that. 
Video walkthrough
This video will guide you through setting up your profile making your classes recur.
Making your classes recur
Once you've created your class, you will be directed to the class details page (as below).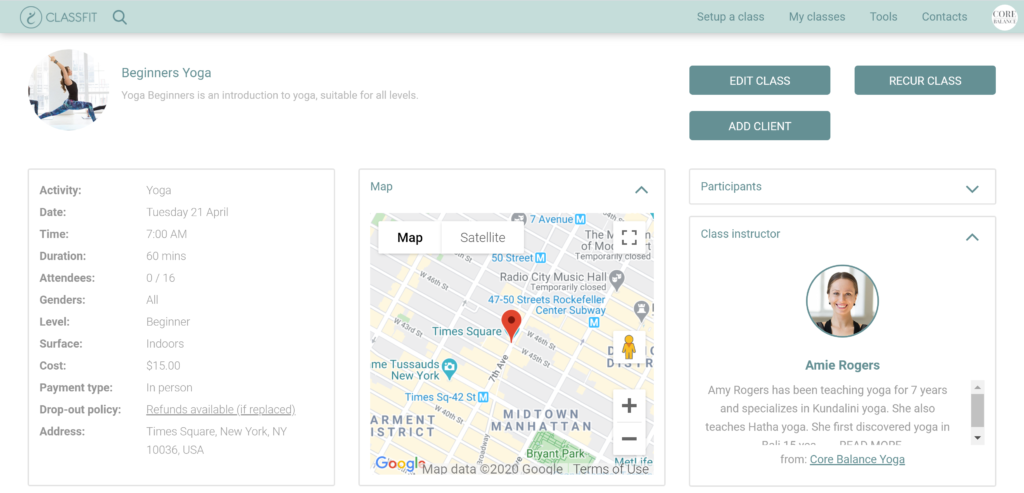 Click on the recur class button in the top right. This will take you to the advanced settings page (as below).
Select the days of the week you would like this class to recur. This can be a single day, or multiple days, but all classes will recur at the same time as the original. 
Then select the period for which you would like these classes to recur.  This can be anything from 1 month, through to 12 months, or until you decide to cancel it. Once you're happy with your recur settings, click the save changes button in the top right. 
ClassFit will create your recurring classes automatically 2 months in advance. If you have chosen a longer recur period than 2 months, ClassFit will continue creating new classes 2 months ahead of each class date.