Our calendar seamlessly integrates into your website and is fully customizable so you can
match your branding exactly. Set-up takes just a few minutes but we also offer a complimentary
set-up service if you prefer.
Our calendar can integrate with your website in just a few minutes. We also offer a complimentary set-up service, if you'd like us to take care of the integration.
Professional And Seamless
You can customize the look of your booking calendar so it matches your brand exactly and seamlessly blends in with the rest of your website.
Your calendar is linked to your ClassFit account so you can get real-time attendance stats. Create a class and it will instantly appear on your website.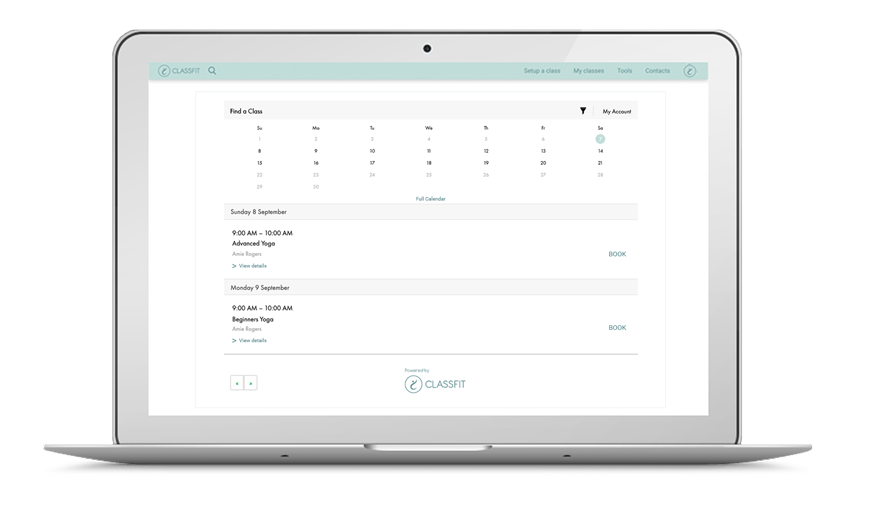 Implementing a ClassFit calendar on your website can be done in just a couple of minutes. Once you've created an account and added your classes onto ClassFit, you can then create a customized calendar to integrate into your website, where clients can sign up and book your classes there and then.
You simply choose a style and the colors and the calendar will be generated in the form of a small piece of code that you copy and paste into your website.
If you'd prefer that we take care of this for you, we are also happy to handle the entire integration process – without any cost to you. Simply drop us a line at hello@classfit.com when you sign up and we'll take it from there.
Professional And Seamless
Our booking calendar is completely customizable – you can match your branding and colors exactly ensuring that the calendar seamlessly blends into your website.
Our calendar embeds directly into your chosen website page – so your customers will be able to view live availability of classes and spaces. This also means there's no need for your customers to click away; they'll be able to book your classes without ever leaving your website.
Within the calendar, you will find all of the features you would expect from ClassFit; electronic payments, medical forms, bulk class purchases and our 'refund if replaced' feature. The end look is professional and clean whilst being incredibly simple to set-up and use.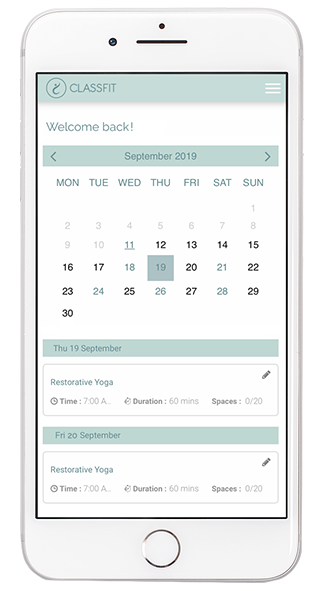 With ClassFit you'll stay connected. Once you create a class or event on your profile, it will appear across all platforms and will instantly appear on your website through the calendar integration. You'll be able to see real-time attendance stats for all of your classes and will be able to edit, cancel or set them to recur easily with just a few clicks.